Baccarat
Baccarat
Baccarat is a casino staple and now this card game is available online thanks to top developer Microgaming. There's no need to reach for the dinner jacket and bow tie, you can settle down in the comfort of your own home and choose wisely whether to back the player or the dealer.
Baccarat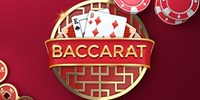 Who will you back - the player or the banker?
Provider: Microgaming
Game Type: Casino Game
Payout: 95% - 96%
Available on Mobile: ×
Available on Desktop: ✔︎
UK Compliant: ✔︎
How to Play
Set your bet by tapping the + or – buttons, then decide whether you think the player will win, the banker will triumph or whether they will tie. Get it right and you win, it's as simple as that.
Here's how the game works:
The player and banker are dealt two cards and attempt to get as close to 9 as possible. Face cards score nothing, Aces are worth 1 and the number cards are worth the number upon them.
If either hand goes above 9, only the second digit is counted. For example, if the player was dealt a 4 and an 8, that would make 12, but for the purposes of the game, would make the value of the hand worth 2.
If the player's hand is worth 5 or less, they automatically receive a third card.
If the player 'stands', opts not to take a new card, and the banker has a hand of 5 or less, the banker receives a new card.
If the player receives a third card, whether the banker also receives one is dependent on the player's score.
If either the banker or player scores an 8 or 9, both 'stand'.
The beauty of Baccarat by Microgaming is that you don't have to worry about the intricate rules, you simply pick a side and let them duke it out. You receive an even money payout on Player or Banker bets, although winning Banker bets are subject to a 5% commission. The payout for a Tie is 8/1.