Dr Watts Up
Dr Watts Up
In Dr Watts Up, you'll encounter Dr Watts deep inside his scientific laboratory – a crazy scientist capable of the weird, wacky and wonderful along with his pink-haired assistant, monkey and rat companions. Together, they've created an online slot giving players an incredible 243 ways to win.
Dr Watts Up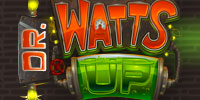 Create potions in Dr Watts' lab
Provider: Games Global
Game Type: Slot Game
Payout: 92.06%
Available on Mobile: ✔︎
Available on Desktop: ✔︎
UK Compliant: ✔︎
Why You Should Play Dr Watts Up
Embrace all the test tubes, microscopes and utensils you'll be presented with in Dr Watts Up, alongside his scientific sidekicks and a wide range of chemical equipment. It's your job to stop the potion creation and chemical sampling, and come out with a winnable amount of money. Immerse yourself in your new-found surroundings, because even if science was not your favoured subject back in the day, all these technical sums equate to one successful formula. And there's not a periodic table in site!
How to Play
You don't have to be chemistry guru, physics fanatic or fountain of biology knowledge to navigate Dr Watts Up - the online slot is actually very easy to use and simple for players to grasp. Place your bet, tap Spin and watch the laboratory finally come to life as reels are matched spin-after-spin. With 243 ways to win, you may not find out what was in each of Dr Watts' chemical concoctions, but there's plenty to discover along the way.
Features
Free Spins
Away from his scientific duties, Dr Watts offers players the Free Spins feature if they're able to match three or more Atom symbols to trigger this bonus. He provides up to twenty free spins, based on the number of symbols it took to activate the bonus game. If you come to accept Dr Watts' peculiar ways, you can spin your way into a good position and might even leave the laboratory with what you initially came for. Good luck!
Laboratory Bonus Game
The Laboratory Bonus game is accessible during the Free Spins where, if you match the lab rat in any position on reels 1, 3 and 5, the Laboratory Bonus is automatically triggered. The fate of the sacrificial lab rat is then solely in your hands as you must carefully select two chemical tubes from Dr Watts dastardly lair to use as a scientific experiment. However, the combination of two chemicals can actually work wonders turning the rat into a human, and if you like what you can see, you can walk away there and then with your increased winnings.