Epic Gems
Epic Gems
This unique, exciting gem of a game from Gamevy is simply epic! There are 40 colourful jewels in Epic Gems, but four hidden mines are planted somewhere close to the swirling vortex. Can you match the winning red, purple, blue, green and orange gems to make this your crowning achievement?
Epic Gems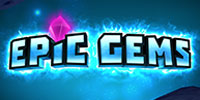 Match the gems and avoid the mines
Provider: Games Global
Game Type: Casual Game
Payout: 96.55%
Available on Mobile: ✔︎
Available on Desktop: ✔︎
UK Compliant: ×
Why You Should Play Epic Gems
This unique gameplay experience contains a colourful interface, pleasing graphics and is very straightforward to play. Set in a sci-fi realm, you have the freedom to roam wherever you like - there are no fixed reels and rows here. There are no Wild symbols, free spins or bonus rounds either, and the game is available to play from as little as £1 a spin. There's a whopping £25,000 up for grabs, just watch out for those pesky mines!
How to Play
Use the plus and minus buttons to increase your bet and the size of the jackpot you are aiming for on the homepage screen, and then select 'PLAY' to get started. On the homepage you can also press the cog in the top left-hand corner for more information and to alter the music and volume settings. From there, pick or swipe as many gems as you can to win a prize, and the more gems you collect, the bigger your reward!
The winning gems will disappear into the vortex on the right-hand side, and you can cash out at any time after collecting your first winning gem. However, your game will end and prize will be destroyed if you land on one of the four hidden mines. Win the jackpot by collecting all 36 winning gems without landing on a mine.